Foundry Sand – Silica Sand For Foundries
Foundry Sand
High Quality and high deposit foundry sand for thousands of years with a Huge Reserve in Egypt which is available in ZAFARAN AND ABOU ZNIEMA  and yellow silica sand with quality greater than 98$ while the WITH Quality of 99.10% Sio2 with an Iron content average from 0.018% -0.0.35% with practical size Distribution from 0.075 mm – 0.85 mm, it's High Quality with high whiteness and Low Al 2o3 support high casting products which used by Best Car factories. High Frequency Vibrating Screen supports us to produce different fines which meet multi-casting uses. Because we are in Egypt land of a large variety of minerals, in al Sharqeya, we have Brown Silica sand with a Purity of 96.5%-97% SIO 2.
Where to find white silica sand?
-White silica sand can be found in two main places in Egypt
-South Sinai where Abou Zenima port main port that most Exported silica sand to India, UAE, and Turkey
–  Zafrana quarries which are far away from Cairo about 350 km
What is the purity of white silica sand?
Sio 2 minimum 99%
Which AFS grades can grade from white silica sand?
In fact, White silica sand is mostly AFS from AFS 45 – AFS 55 as its grain size is mostly from 0.075 mm – 0.850 mm
Properties
• High Strength and High RESISTANCE meets ASTM
Advantages
 • ISO 9001 Certified
• High strength, superior casting finishes in all binder systems and metals
Foundry Sand Specifications
We can meet different AFS grades
processed from Abou Zniema quarries and Sharqeya quarries
stored and Exported in Bulk shipment  For Large Quantities from port ABOU ZNIEMA PORT (red sea port)
The port of Abou Zenima can load vessels of 5000-25000 M tons Max as the Draft of the port is 9.50 Meters.
We can pack orders of 1000 tons or less in big bags of 1250kg-1500kg.
We can stuff containers of 20 feet with 25-27 tons.
The shipment of 20 big bags can be loaded into each container.
We can provide big bags in good condition or new upon customer's request.  
What are the main requirements of silica sand used in the foundry?
Here Is What You Should Do For Your FOUNDRY Silica sand
Rounded silica sand
Sand Size Distribution
Chemical and Thermo – Physical Properties
The Acid Demand Value test
Fines and Clay
you can find us on ALIBABA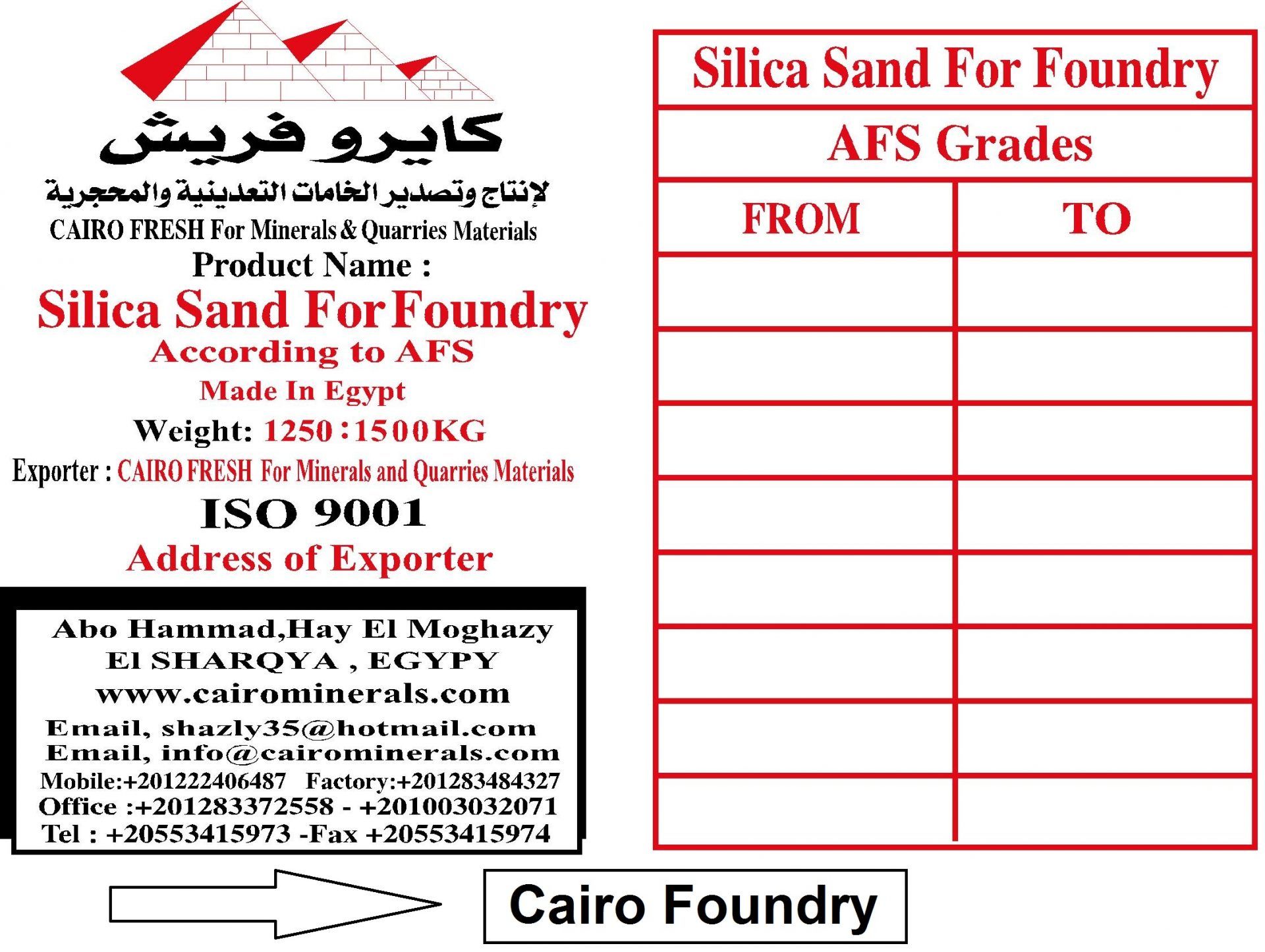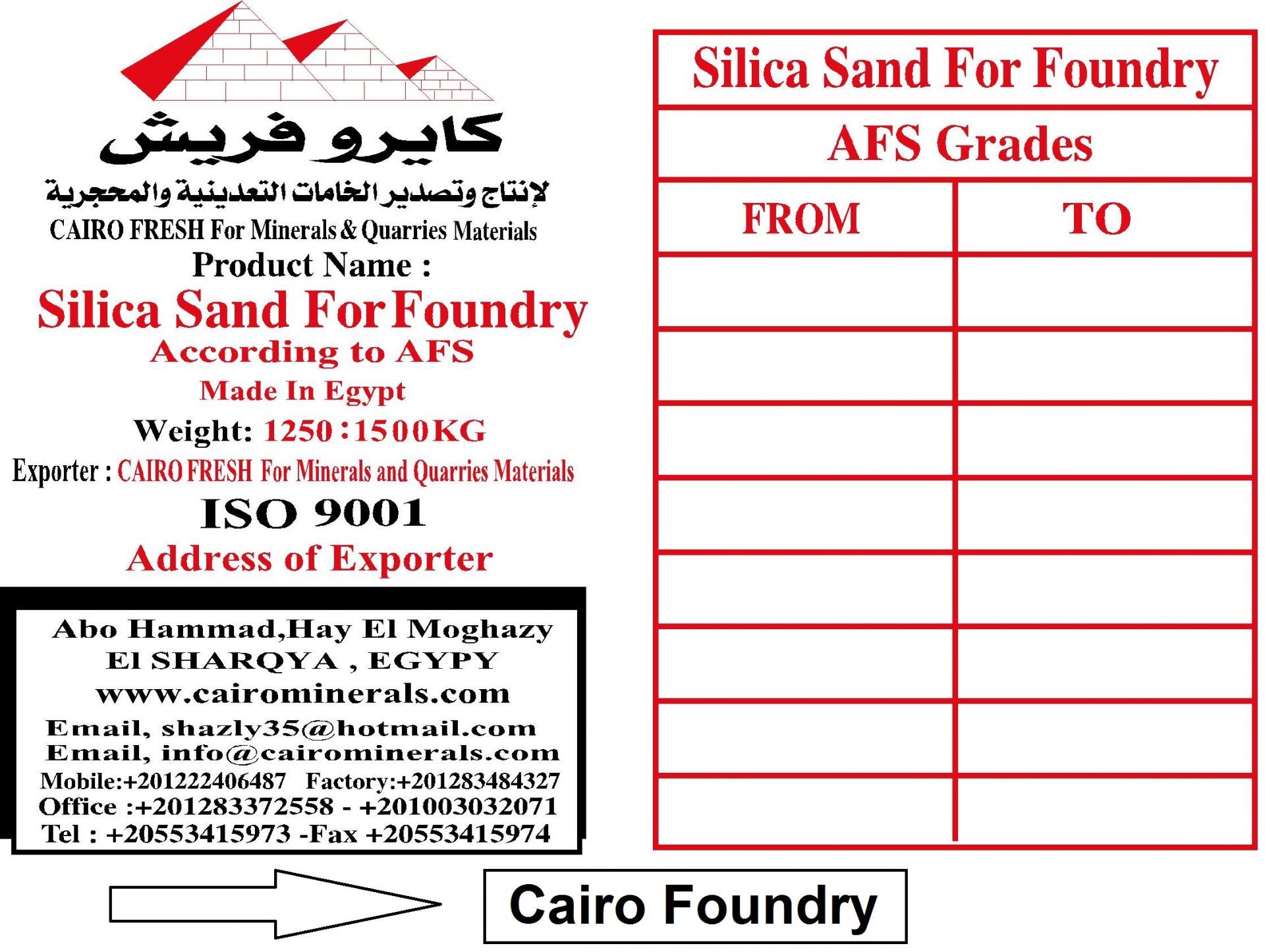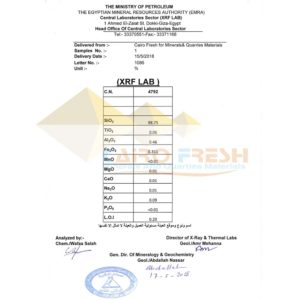 Sample of AFS grades.